Lesen Sie diese Seite auf Deutsch
Your Voice for Everybody
Ascension Day, May 25, 2017
Subscribe to My newsletter and get Everything new by E-mail.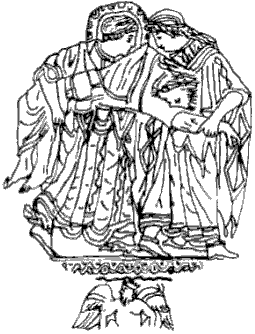 The Crucified is brought away by two Women. Picture on an Estruscan mirror.
About one year ago I started translating Jesus Christ into German and published Everything on My homepage. Doing that Everybody totally ignores Me or alternatively attacks Me sometimes. At the same time I recognize happily that more and more People are using terms and statements of the Urtext in Their language.
One year ago I did an internet search on the term Urtext and found only references to the Urtext of Jesus Christ. There were also some references to musical notes that claimed the term for Themselves, but since musical notes are not text I am fine with that.
Today this term is suddenly used in an inflationary way for the Bible. There is no Urtext of the Bible, and if there was one, Everybody could see clearly how the Bible has been distorted. Jesus never was a Jew. He was neither born in Palestine nor has He ever lived there. The jewish religion is not God's chosen "People".
Jesus says:
Consider the power of My Word, in that it has withstood All the attacks of error, and is the Source of Truth.
Jesus also says:
I am the only completely true witness for God. You have every right to examine My credentials — in fact, I urge You to do so.
At Present You find the true Urtext of Jesus Christ for free and exclusive on the website of Doug Thompson and on My website. In this newsletter I send You the complete Chapter 1 of the Textbook.
Have fun!
B
Preview
For You to know where Our journey leads Us to I decided to publish and translate next All the Introductions to All of the 31 Chapters of the Textbook which are very comprehensible. In My preview You can anytime have a look at My progress.
Happy Birthday dear Jesus!
Christmas, December 24, 2016
2017 years ago Jesus was born. This is a short specialnewsletter due to His birthday.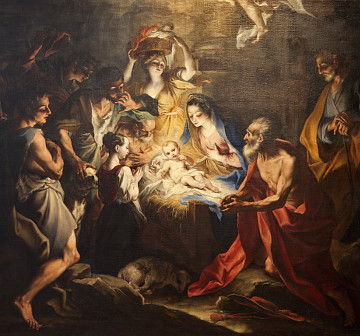 A couple of weeks ago I found amongst the many pages of the Urtext one that was dated Christmas 1969.
This is a beautiful dialog between Jesus and Helen Schucman that I already sent You in My last newsletter:
H: I don't think B wants this Course, and I'm not sure I do, either. He is very snappy.
I think this is slightly true because something is bothering Him, but He certainly is not very snappy. So why not try to help Him instead of blowing it up into an obstruction? He helps You All the time.
H: I resent this.
He is supposed to help Me but I – I resent a reciprocal arrangement, because He is a Man. Men are supposed to give to Me, but this is not possible.
H: I don't always feel this way. It's a danger signal now and just means something's wrong. Anyway, presumably this Course is an elective.
No it isn't.
7 years ago this Course draw My attention to it for the first time. About half a year ago I decided to publish an uncensored version of it on My homepage and to translate it into German. Right now this work is almost the only thing that I really have fun with.
Unfortunately various bartenders and cashiers in the supermarket still want Me to give Them money. Additionally I should pay at least My power and Internet bills to be able to continue My work.
Up to now only one Person donated 20 EUR for two books We sent to Him.
Jesus also says:
B is doing very well, and I am deeply grateful for His efforts. I do need help with this Course.
B – please don't let Me down.
This is very unexpected. I don't talk this way to Men.
Therefore I would appreciate if You use Jesus' birthday as an opportunity to donate to My Superdigi Foundation. Only when You give Your money to My Foundation You can be sure that it will be spent solely for Health, Healing, Learning and Truth.
Merry Christmas,
B
Preview
It will probably take a couple of weeks until I finish My German translation of the 70 pages long first chapter of the textbook. However, there will be only minor changes in the English version that is already available as a preview on My website.
Hello world!
St. Nicholas' Day, December 6, 2016
This is My first personal newsletter to You. I just send it to Anyone I ever sent an e-mail to or Who ever contacted Me by E-Mail. It is also possible that I put Your E-mail address in My mailing list because I think My newsletter could be of interest to You. Don't be afraid: At the end of this newsletter You find a link to easily unsubscribe You from My list.
If You want this newsletter to be sent to another E-Mail address, You can subscribe on My homepage http://www.superdigi.org.
Right now I am just starting with My activities and if You like what I do I would be glad if You tell others about it. Currently My website is listed very low in the common search engines. If You are active in the internet You could help Me also by placing a link to My website.
Preview
In My next newsletter Jesus tells Us more about Miracles, sex, projection and possession.
Do not miss that.
So long!
B
Contact
Bodo Schlecht: info@superdigi.org